Asia - the World's Largest Continent
Double clicking on any one of these books will take you to the complete list.
For students, when you landed on this page a survey window opened.
We would appreciate your response to the one question survey after you have completed your task.
Thank you.
American Pacific Isanders
Lesson Plans AAPI Heritage Month
Asian Children's Favorite Stories
Call Number: eBook
Publication Date: 2006-11-15
For thousands of years, parents around the world have been telling their children stories; at bedtime, over the dinner table, and around the fire. Each country has its own set of fascinating tales, which are especially enjoyable for children to discover. Asian Children's Favorite Stories is a marvelous collection of 13 beautifully told folktales from eight major countries in Asia-China, Japan, Korea, India, the Philippines, Thailand, Malaysia and Indonesia. Open the pages of this fascinating storybook to introduce your child to the wonders of Asia-and the joy of finding new favorites to read over and over again.
Tales of a Korean Grandmother
Call Number: eBook
Publication Date: 1989-12-15
The Korean people possess a folklore tradition as colorful and captivating as any in the world, but the stories themselves still are not as well-known to Western readers as those from The Brothers Grimm, Mother Goose, or Hans Christian Andersen.

In her best-selling book for young readers, Frances Carpenter collects thirty-two classic stories from the land of Korea: the woodcutter and the old men of the mountain; the puppy who saved his village from a tiger; the singing girl who danced the Japanese General into the deep river; Why the Dog and Cat are Not friends; and even a more familiar tale of the clever rabbit who outsmarted the tortoise.The children of the Kim family sit at their beloved Grandmother's knee to listen to these and other traditional folk tales which are rooted in thousands of years of Korean culture.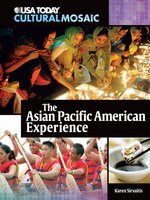 The Asian Pacific American Experience
Call Number: eBook
Supplemented with quotes and engaging articles from USA TODAY, the Nation's No. 1 Newspaper, The Asian Pacific American Experience shines a spotlight on Asian Pacific Americans and their many exciting contributions to American society. From artists and athletes to filmmakers and chefs, Asian Pacific Americans enrich American life.